[Q-fitter's News] 계량약리학 성과 공유 및 저변 확대를 위한 지속적 국내외 학술 활동[2017.11.30]
관리자
24 Jan 2018
View counts 1615

계량약리학 성과 공유 및 저변 확대를 위한 지속적 국내외 학술 활동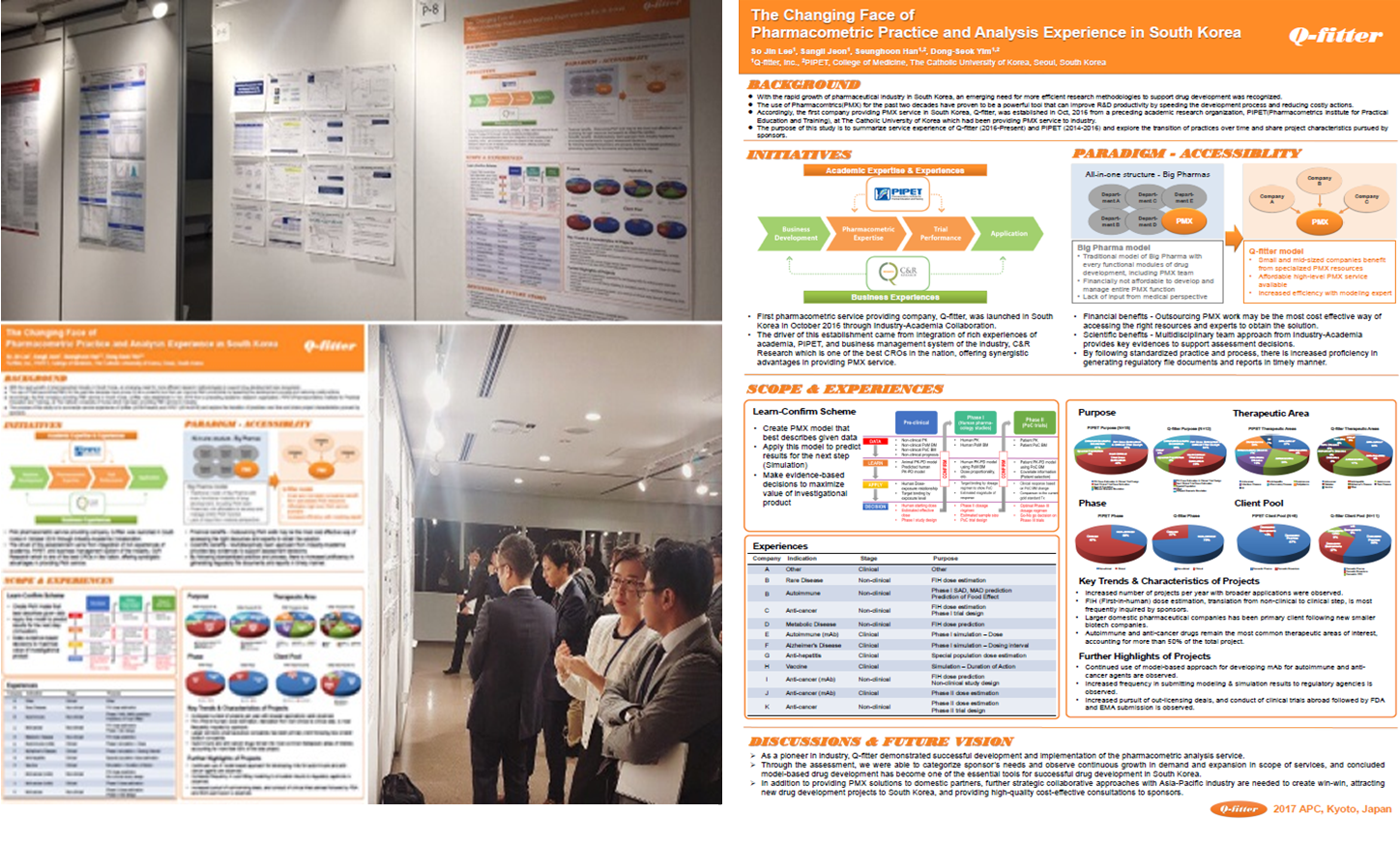 큐피터는 활발한 학술행사 참석을 통해 계량약리학 프로젝트의 경험과 성과를 발표하고 있으며, 이를 통한 계량약리학 분야의 저변 확대에 나서고 있다.
지난 10월 26-27 일 일본 교토에서 양일 간 펼쳐진 2017 APC (Asian Pharmacometric Conference)에 참석하였으며, 큐피터의 학술파트너인 PIPET (가톨릭계량약리학연구소)은 학회 개최 전 "Translation of mAb PKPD: Theoretical Basis and Case Studies"라는 주제로 Satellite Workshop 을 진행하였다. 본 학회에서는 큐피터가 국내 최초로 설립된 이후 1년간 진행되었던 프로젝트들을 정리하여 ""The Changing Face of Pharmacometric Practice and Analysis Experience in South Korea" 라는 주제로 발표하는 기회를 가졌으며, 학계에서 업계로 변화중인 국내 계량약리학 서비스의 현황에 대해 공유하였다. 또한, 세계 최초 바이오시밀러의 해외기관 허가와 관련하여 PIPET의 모델링 경험을 발표 한 바 있다.
11월 7 - 8일 양일간 치뤄진 대한임상약리학회 추계학술대회에서는 큐피터 연구진이 국내 계량약리학 서비스의 동향에 대하여 발표하였고, 가톨릭대학교 서울성모병원 임상약리과와 공동연구중인 "Model Based Approach for Accurate Vancomycin Clearance Estimation" 에 대하여 소개하였다.
큐피터는 11월 10일 개최된 PAGK (Population Approach Group in Korea) Annual Meeting 에서도 자사의 모델링 경험과 성과를 포스터로 발표한 바 있다.
이와 같이 큐피터는 계량약리학 업계의 선구자로서 활발한 국내외 학술활동을 진행 중이며, 국내 최초로 계량약리학 서비스를 성공적으로 정착시키고 프로젝트 경험을 업계 및 학계에 공유하며 계량약리학의 새로운 지평을 열고 있다.